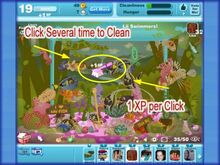 This description is taken from the Happy Aquarium guide. Do not modify it.
To clean your or your Neighbor's Tanks click on the pink brush at the lower left hand side of the screen.
It will now stick to your cursor. Place it somewhere near the center of the screen and click repeatedly to clean the tank.
When cleaning your own tank it takes 10 clicks to clean it if it is as dirty as it can be. You will receive 10 XP for each time you click it for a range of 10 to 100 XP.
When cleaning a Neighbor's Tank depending on how dirty it is you can earn 1 to 10 XP as each time you click on the screen you will receive 1 XP point.
You can clean each one of your Neighbors Tanks for the 1 XP per Click awarded.
When a tank goes from a dirty green brown to a bright blue colorful tank and the brush stops working you have cleaned the tank as much as possible.
The more fish you have in a tank the faster your tank will become dirty.