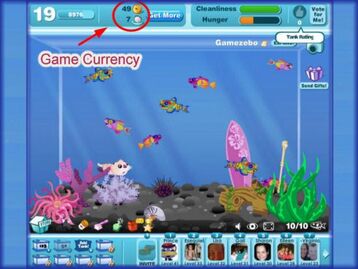 The
Game Currency
is a term for playing Happy Aquarium.
Gold Coins - This is the primary currency in the game. The player starts out with 50 Gold coins.
Pearls - This is the virtual currency that will buy you special items in the game. The player will earn 1 Pearl for each level the player advances and they can purchase additional pearls with Facebook Credits.
XP - (Experience Points) These are the points they earn as they play the game and determine the level of the game the players are currently on.
Purchasing Additional Game Currency
Edit
To purchase additional game currency, the player should click on the button at the top left of the screen that says, "Get More".
A screen will appear allowing the player to use their credit card, Paypal account or Mobile phone to purchase coins or Pearls.
The player can also use Facebook credits to purchase coins and Pearls.