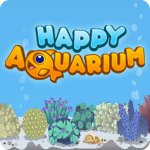 Happy Aquarium is a game developed for Facebook by CrowdStar. In Happy Aquarium, players adopt and purchase Fish. They then take care of their fish by cleaning their Tanks with the Brush, feeding them Fish Food, and buying items for their tanks from the Store.
General Game Information
Edit
Here's the rules:
Happy Aquarium is a simulation game developed by CrowdStar games and released on Facebook in September of 2009.
It is estimated that over 1.3billion people play happy aquarium each day.
Purchase, adopt, or breed fish for selling or for developing a beautiful aquarium for your enjoyment.
You will raise baby fish to adulthood train them to increase their value and then sell them so they can be released back into the ocean.
There are more than 130 levels in the game and each level unlocks additional breeds of fish, decor items, and gifts that can be used in the game.
Neighbors are an important aspect of the game. Visiting neighbors will earn you coins and XP (experience points) and will help you to advance through the levels faster. You can also have friends send gifts to you and send you options to adopt cute sea creatures that can be bred for future profits.
You have the option of naming each fish, choosing its gender, and training your fish to do tricks.
You can have up to 20 aquariums each holding a minimum of 10 and maximum of 40 fish per 125 Gallon tank.
You can move fish and decor items between tanks by clicking on the fish and then the switch button on the upper right.
Each day you earn XP and coins by cleaning your tanks, feeding your fish, and visiting your neighbors and doing the same things for them.
There is a daily award of coins available by placing a chest in your tank. Click it once per day and you will be awarded coins. Click on your neighbor's chests once a day and earn coins from them as well.
While training each fish to do tricks you can earn coins and additional food for your tank.
There are 8 tricks you can train each fish to do. Tapping on the glass triggers your and your Neighbor's fish to do tricks.
Twice a day you can play a coin hunt game with 2 fish of your choice. You can keep all the coins your fish touches within 45 seconds and any prize treasure chests they may find.
If you do not feed your fish they will stop growing which causes them to lose value but they will not die.
The game resets once every 24 hours at midnight Pacific time.
You can only play Happy Aquarium if you have a Facebook account. You can sign up for one here: http://facebook.com
If you already have a Facebook account you can access the game here:http://apps.facebook.com/happy-aquarium/
Community content is available under
CC-BY-SA
unless otherwise noted.