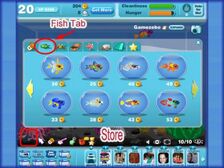 Purchasing Fish
is an option in the Animal Category where the player can buy fishes for their tank.
*There are currently 147 Fish Species available to purchase in the store.

Some are sold for gold coins and some are sold for Pearls or Facebook Credits.
Click on the Store then at the top click on the Fish Tab to locate fish.
If there is a padlock next to a fish, the player must wait until a later level to unlock it and then they must purchase it. Or, they can buy it for Facebook Credits or Pearls. This time, Happy Aquarium removed Facebook Credits. One fish, the Banggai Cardinal is the one you'll have to share your e-mail to get it. Another one is the Cowfish, where you've gotta be a fan of that game.
NOTE - As soon as the player purchases a new fish they will need to feed it so make sure they have enough food or money to purchase food.
NOTE - You cannot buy a fish that needs a big tank; you'll need a big tank to unlock it.