Purple Swordfish
is a swordfish in the Critters Category. She has eyelashes. She can be bought for 23 pearls. She mates with the Candy Swordfish. She can be fed, hunt for treasure or train.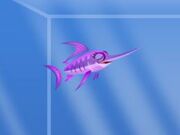 Unlike many other animals, you cannot change the gender of the Purple Swordfish, because she is female.
This is the only swordfish that has her gender female.
Her sword doesn't afffect the fishing hook, the rabid piranha plant, the cat paw and the chains of the mine. She will die.
She is the first swordfish that is unlimited in the store.
She appears in a Two Swordfish Bundle, with a Candy Swordfish.
When you visit Happy Aquarium, she costs 18 Pearls. Later, her gender changed to male. But later one, the gender is female, because Candy Swordfish is male.
Community content is available under
CC-BY-SA
unless otherwise noted.