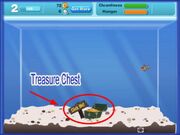 Each person is given a Treasure chest that can be kept in their first tank.
Clicking on this tank once a day awards you will a varying amount of coins.
The cleaner your tank and happier your fish the higher the amount of coins you will receive.
When you visit your Neighbors you can click on their Treasure Chest once a day for coins as well. The cleaner they keep their tanks the more money their visitors will receive.
Each Chest refills at Midnight Pacific time.
If you wish to upgrade your chest you can purchase a bubble clam in the store. This takes the place of your chest as you can not have 2 at a time.
After a chest has been emptied the "Click Me" sign will change to "Check back Tomorrow"